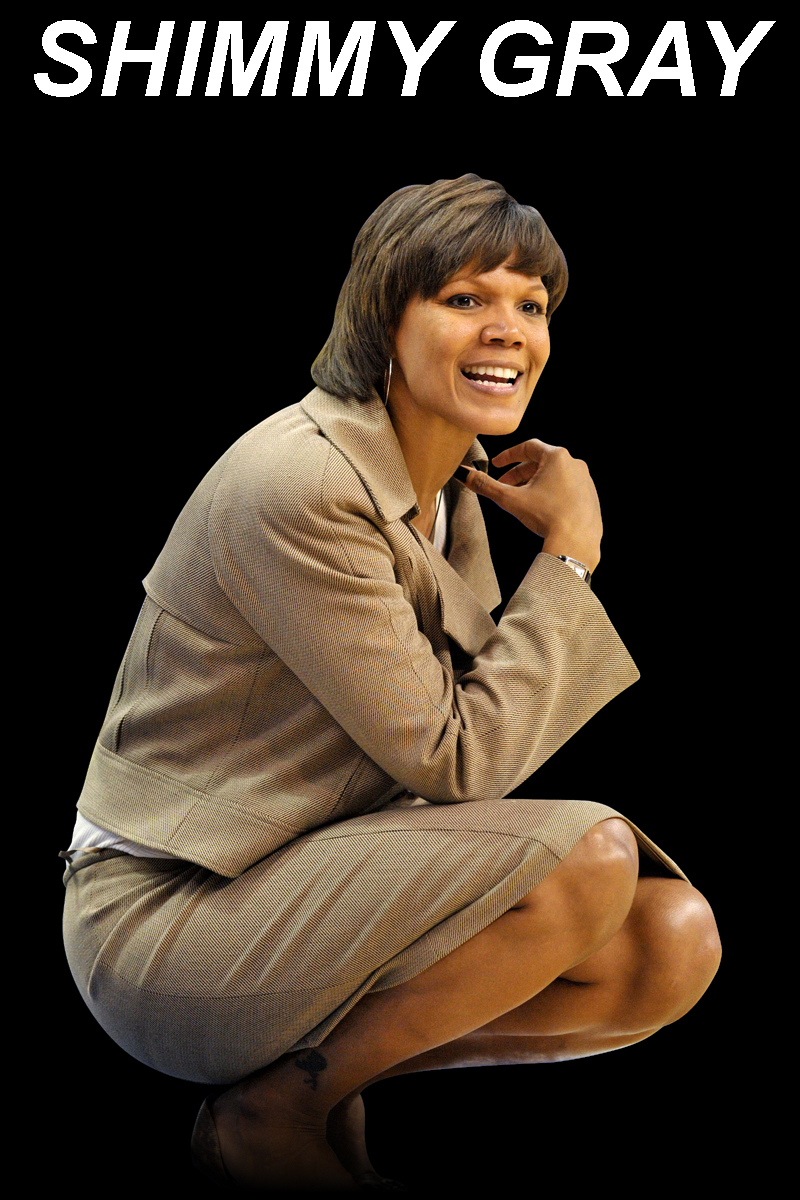 Shimmy Gray-Miller was introduced as Saint Louis Universityís sixth head coach on April 19, 2005. During her seven-year tenure she injected passion and energy into Billiken women's basketball. The Flint, MI, native guided Saint Louis on a steady climb and successful transition into the Atlantic 10 Conference. Gray-Miller's arrival at Saint Louis for the 2005-06 season coincided with the University's move to the Atlantic 10 Conference. Despite having an inexperienced and undersized squad, Gray-Miller and her staff helped the Billikens rank in the top half of the conference in offensive rebounds, 3-point field goals made, steals, turnover margin and free-throw percentage. Several Billikens enjoyed standout performances that season including Tyler McIlwraith, who nearly tripled her career scoring average en route to earning second-team All-Conference plaudits. Under Gray-Miller's tutelage, McIlwraith finished fourth in the A-10 in scoring average and reached the league's top 10 in four other categories.
The Billikens' six conference victories and ninth-place finish in 2010 year were high marks for the program since SLU joined the league prior to the 2005-06 campaign. Local fans acknowledged the continued improvement by showing up in record numbers. The Bills enjoyed a 70 percent increase in attendance since before Gray-Miller revitalized the program. In 2009, Gray-Millerís efforts in recruiting paid off as the postseason honors list provided more evidence of the program's ascension. Saint Louis produced two All-Conference performers for the first time in 20 years. In all, while at Saint Louis, Gray-Miller coached:
∑ Seven Atlantic 10 all-conference players
∑ One A-10 Most Improved Player of the Year
∑ One A-10 All Freshman selection
∑ Nine A-10 Players of the Week
∑ Six A-10 Rookies of the Week
In addition three of Gray-Millers players have been named National Strength & Conditioning Association All Americans. The first and only three in Saint Louis womenís basketball program history. Four of Gray-Millerís recruits have joined the coveted 1000 point club, which consisted of only twelve in SLU history before Gray-Millerís hiring.
Collectively Gray-Miller has produced some of the best teams and team performances in the 37-year history of the program. Her Billiken squads have set program records for:
∑ Points
∑ Steals
∑ Free throws made
∑ Free throw percentage
∑ Rebounding
∑ 2007-08 team was ranked 22nd in the nation for free throw percentage
Academic achievement and community service have always been high priorities for Gray-Miller.
17th nationally ranked WBCA Academic Top 25 team (2006-07)
Two ESPN The Magazine Academic All Americans

Two CoSIDA Academic All Americans

Four CoSIDA Academic All District selections

Five members of the NACDA Division 1-AAA Scholar-Athlete Team

Three A-10 womenís basketball Scholar-Athletes of the Year

Four A-10 all academic selections

One A-10 Female Scholar Athlete of the Year (all sports)

Numerous Billikens named to the A-10 Commissioner's Honor Roll.
In the community, Gray-Miller and the Billikens were involved with more than two-dozen organizations since she arrived in St. Louis. The team and coaching staff annually performed hundreds of hours of community service, making Billiken women's basketball routinely one of the leading groups among nearly 200 SLU organizations in community service and first amongst varsity sports all seven years of her tenure. As a result of her tireless efforts in the community, Gray was recognized with the prestigious Greater Missouri Girl Scouts of America Distinguished Women Leaders Award in 2011.
Prior to her arrival at SLU, Gray-Miller served two seasons as an assistant coach at the University of Arizona. She helped guide the Wildcats to:
First Pac 10 conference championship in program history (2004)

Two NCAA Tournament bids

Two honorable mention All-Americans

Two first team All Pac 10 selections

A 2005 second-round WNBA draft choice
Gray-Miller also enjoyed a successful three-year stint as an assistant coach at the University of Washington. She helped lead the Huskies to:
∑ Pac 10 conference championship (2001)
∑ Two NCAA Tournament appearances and a WNIT berth
∑ Seven All-Conference players
∑ 2002-03 Pac-10 Player of the Year Giuliana Mendiola
∑ Three WNBA draft picks
∑ 19 Academic All-Conference honorees
∑ NCAA Tournament Elite Eight appearance in 2001
∑ No. 14 national ranking in 2001
Gray-Miller graduated from the University of Michigan in 1994 with a bachelor's degree in sociology and a minor in law and criminology. She played basketball for the Wolverines, serving as team captain and winning the 1994 Bob Ufer Quarterback Club Award for leadership and dedication. Gray-Miller still ranks in the top 20 career list in certain categories. In 1998-99, Gray-Miller played professional basketball for Olivais Futebol Clube, a first-division club team in Coimbra, Portugal.
A graduate of Carman-Ainsworth High School in Flint, MI Gray-Miller was a two-sport Michigan All-State athlete. She was inducted into the Carman-Ainsworth Athletics Hall of Fame in 2005. Gray-Miller served on the Central Institute of the Deaf (St. Louis) Board of Directors and currently serves as a Board Member for Safe Connections Domestic Assault Center (St. Louis). She is a highly sought after guest speaker and presenter for various organizations including the NCAA Achieving Coaching Excellence workshop, Athens (Greece) Institute of Sport, and the WBCA annual convention.